Why Automated Payment Collection and Reconciliation is becoming increasingly important?
The world of digital payments is evolving at a rapid pace. The growth is boosted by improvement in the internet connectivity and evolution of Telecom, mainly the advent of 4G and 5G services that are available on the mobile handsets. The technology backing the digital payments has made the payments more secure, easy to make and you have various payment options available at your fingertips. A multitude of mobile wallet systems have come up which makes it very easy to make payments.
The power of digital payments offers a big potential for businesses to collect their payments efficiently. This allows them to be focused on offering their services instead of worrying about the collection and reconciliation. The new generation businesses like OTT platforms, SaaS (Software As A Service), IaaS (Infrastructure As A Service), PaaS (Platform As A Service) and IoT (Internet of Things) are businesses that offer subscriptions, all requiring recurring payments. 
These businesses collecting recurring payments are now faced with the Payment Collection and Reconciliation challenges more than ever before. Their revenue streams and cash flow depends upon the efficient collection of payments. If they error with the collection, it directly affects their revenue and impacts their business and cash flow. 
The various digital payment options are definitely improving the collection, but the payments need to be tracked and reconciled properly. Also, you as an organisation need to be using all the payment options that are available and be able to detect and reconcile payments coming from different sources.
How do Organisations Collect Payments and Reconcile them today?
Most organisations use completely Manual or a Semi Automated Payment Collection System. Let us look at how these systems function.
Manual Payment Collection and Reconciliation
Most of the time, businesses keep delaying the decision to automate their payment collection process and keep collecting and tracking their payments manually. The startup companies most surely land up in trouble due to manual processes and over-reliance on hard working individuals who drive the entire invoicing and payment collection process.
Through the manual processes, you may pull off the herculean task of sending the bills to customers and collecting and tracking their payments, but as the number of customers grows, the collection team starts finding their job more and more difficult. This is the time your team needs to be assisted by technology. This is where the Automated Payment Collection and Reconciliation systems become very crucial.
Semi Automated Payment Collection and Reconciliation
Some businesses have online portals that cater for account management and subscription management for the end customers. They provide options to store a credit card or bank account in their account profile. Such a setup is designed for taking recurring payments automatically. This is much better than running the entire collection process manually, but it still does not give complete automation or control over the reconciliation. 
There will still be customer accounts that do not store a recurring payment instrument in their account profile. They would prefer to make payments using different options such as cheques, wire transfers and also use other digital payment options such as Google Pay, Apple Pay and various Mobile Wallet based applications etc. 
What is an Automated Payment Collection and Payment Reconciliation Process?
The Automated Payment Collection means the process of automatically collecting payments from customers for products or services rendered by using secure payment methods that allow for recurring payments to be charged. It is a convenient and efficient way for businesses to ensure they receive payment for their goods or services on time with an Automated Payment Collection software, in a secure way.
The Automated Payment Collection software should cater for collecting payments using different payment modes that are easily available to customers. For example, these modes of payment include credit cards, debit cards, bank accounts, wire transfers, cheques, mobile wallet systems, Google Pay, Apple Pay, etc..
The Automated Payment Reconciliation process involves matching and verifying payment transactions with invoices and the ability to automatically identify the invoices in the system that should be marked as paid with the incoming payment transactions. Additionally, the payment reconciliation process also entails matching and verification of payment transactions with the total amount deposited into the company account. 
How does EarnBill help with Automated Payment Collection and Reconciliation?
The Automated Payment Collection and Reconciliation is slowly becoming a necessity for businesses as they need to track thousands of payments and invoices. It becomes a very tedious job and starts resulting on manual reconciliation errors, wrong follow ups and dissatisfied customers. EarnBill supports end-to-end automation of use cases concerning Automated Payment Collection and Reconciliation and smoothens your organisation's revenue collection cycles.
EarnBill is a customizable, end-to-end automated solution for complex billing and revenue management. The EarnBill platform provides a complete suite of software components that ensure smooth revenue collection cycles. These software components include batch processing jobs, APIs and UI based transactions and controls that cater for Automated Payment Collection and Reconciliation requirements of your organisation.
'EarnBill's Automated Payment Collection and Reconciliation Architecture'.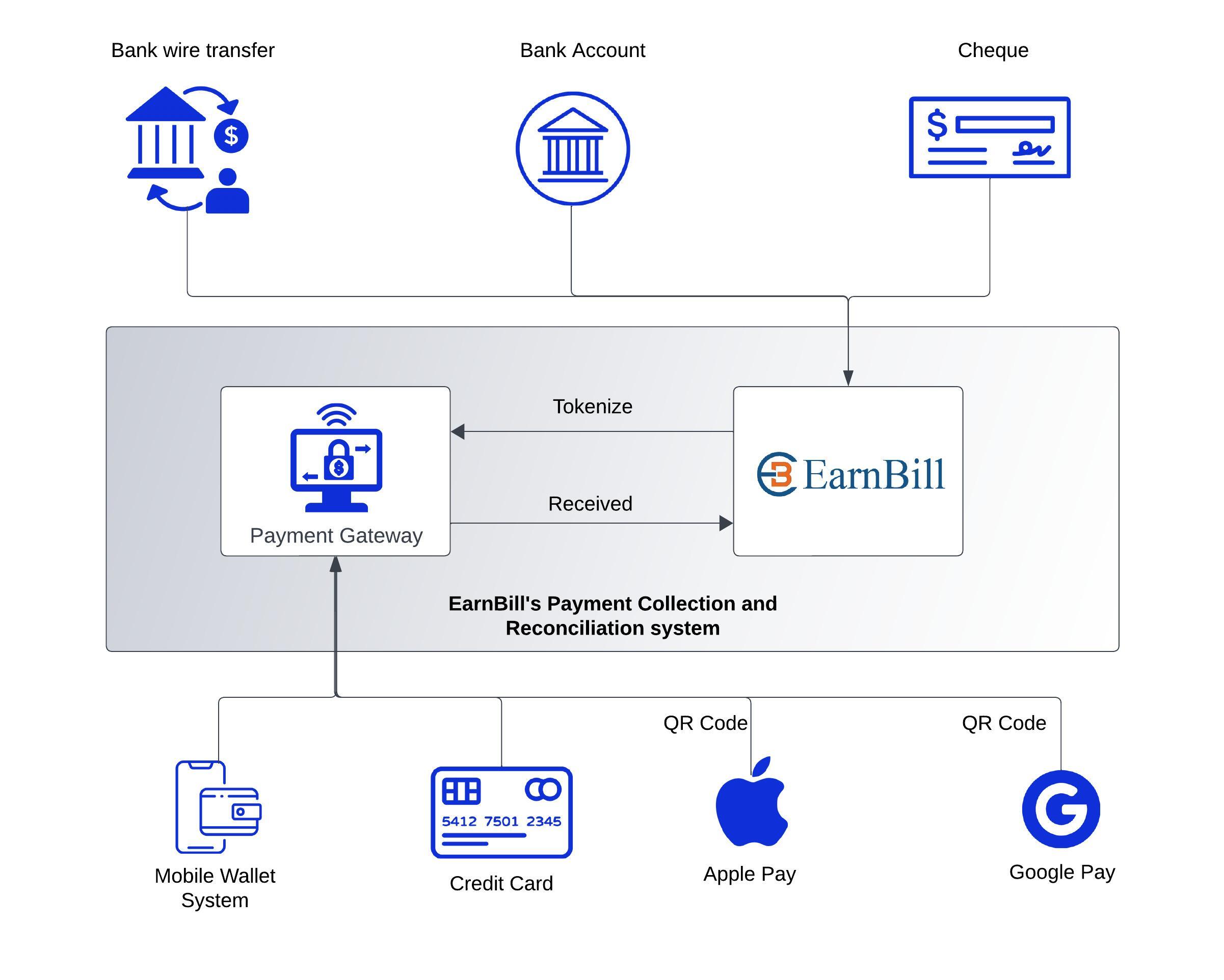 As shown in the above diagram, the EarnBill platform uses automation of end to end use cases concerning collection and reconciliation of payments. It supports collecting payments with different payment modes, namely, credit cards, debit cards, bank accounts, mobile wallets, cheques, Paypal, Google Pay, Apple Pay, etc. It provides an out of box integration with a dozen different payment gateways.
More importantly, EarnBill provides a framework that allows to add new payment methods easily. It supports defining the dynamic new payment methods on the fly with Custom Meta Fields. The code or business logic that needs to work with the particular new payment method can be added through a simple Java based plugin. There are extension points clearly identified in the system in form of Java interfaces which makes it super easy to add a new extension/plugin without impacting the core processing. Thus it is very easy to customise and extend the payment processing framework of EarnBill.
For automated payment reconciliation, EarnBill helps identify payments received from different sources (or payment methods) and applies them on the relevant and matching invoices. This process is automatic and is built in (with configuration) such that any invoice generated by the Bill Run or the Invoicing Engine immediately looks for any existing payment to reduce the invoice balance with such a payment. Whenever a new payment comes in to the system, the priority is given to pay down the oldest unpaid invoice first (to reduce its outstanding balance) and then the newer invoices are considered for the payment.
The system is designed to ensure that payments are facilitated through automated payment processing platform. At the same time, because the payments are taking place in so many different ways, the system is made flexible to track and receive payments that are collected outside the system.
Thus you may have a setup of EarnBill that processes credit card payments and bank account debits automatically through it's collection job. However, you would also have payments collected from mobile wallet systems that do not flow through EarnBill (because they directly hit the bank because of very nature of the mobile wallets). However, through integration EarnBill is able to receive these payments and mark their corresponding invoices in the system as paid.
Thus, EarnBill is a system that not only facilitates payments through it's payment processing abilities and integration with multiple gateways, but it also has the ability to receive payments from various sources (such as banks, mobile wallets and more) and update the invoices with the new balance and status. In order to collect the payments from various sources, EarnBill provides simple integration points, one is API and two is webhooks.
The API based integration is useful for collecting payments received in cheques or cash from the CRM system or any other front desk system to capture the amounts paid. Also, the API based integration allows payments to be processed online and real time from company's portal.
For example, a subscription based business such as SaaS or IaaS etc could allow users to add credit cards or bank accounts on the customer profile through their portal. It could also allow one time payments using cards or bank accounts that are not stored in the account profile. All these transactions can invoke an API in the EarnBill system so that the payment could be processed through a payment gateway and the invoice marked as paid.
Webhook Based Integration
The Webhook based integration is useful in cases where payments received from channels such as the Mobile Wallet based applications or bank wire transfers need to be captured. Typically, this implementation involves an integration with a Payment Gateway that links to your company's bank account to track payments received from other channels.
The payment gateway pushes the messages for such transactions on a Webhook that the EarnBill platform publishes. The EarnBill Webhook receives the payment messages from the payment gateway and adds them as payments in the system. The payment reconciliation is complete at this point as the payment added for the user accurately identifies the invoice for which the payment was made and marks it as paid.
Automated Payment Collection and Payment Reconciliation Reports
Talk to a finance team member in your organisation about Automated Payment Collection and Payment Reconciliation software and the first thing he or she will ask you "do they have good reports?". Without the good, clear and reliable reports, your finance team will not derive the complete benefit of an Automated Payment Collection and Reconciliation System. EarnBill provides financial reports out of the box that cater for revenue reporting requirements that your organisation will have from a compliance point of view.
EarnBill's reporting framework is also customisable allowing you to add new reports very quickly. This means you can have reports that your finance team needs in the exact same format, further reducing efforts to reconcile financial data coming from different sources.
Benefits of Automated Payment Collection and Reconciliation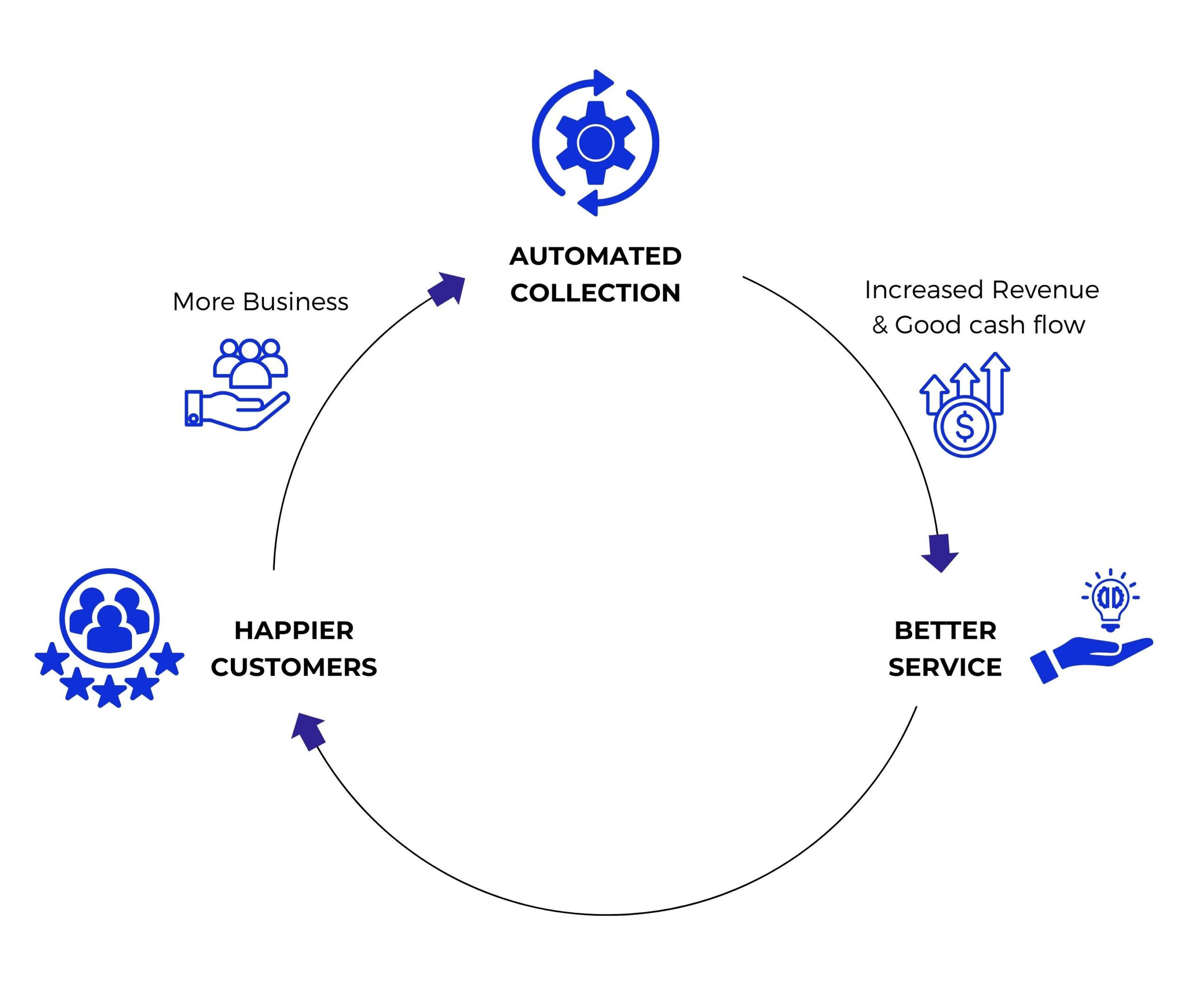 Here are some major key benefits of opting EarnBill for Automated Payment Collection and Reconciliation.
Scalability in Payment Collection:

As your business grows, the volume of financial transactions increases. EarnBill can easily scale to handle higher transaction volumes without a proportional increase in manual effort or costs.

Accuracy and Error Reduction: The

Payment Reconciliation module automates the process of matching payments received against the specific invoices. This reduces the risk of human error, such as data entry mistakes, and ensures that your financial records are accurate.

Time and Cost Efficiency:

The Payment Reconciliation carried out manually can be very time-consuming and labour-intensive. EarnBill streamlines this process, saving your business time and reducing labour costs. This enables your finance team to focus on more strategic tasks.

Audit Trail and Compliance: EarnBill's

Payment Reconciliation module includes audit trail capabilities, which maintain a record of all payment transactions and how they paid down the unpaid invoices. This is essential for regulatory compliance and can help your business demonstrate transparency and accountability during audits.

Improved Customer Relationships:

Accurate and timely reconciliation can positively impact your relationships with your customers. It helps prevent disputes and delays in payments, fostering trust and strong business partnerships.

Competitive Advantage:

Businesses that can reconcile their payments quickly and accurately are better equipped to adapt to market changes and capitalise on opportunities. The Automated Payment Collection and Reconciliation process helps organisation build a strong goodwill that can grow your business.
Empower your business by using EarnBill's Payment Collection and Reconciliation
Earnbill allows you to scale your business by adding more and more customers, without having to worry about the payment tracking or payment reconciliation issue. The automation ensures following key points:
Your company improves its Payment Collection Process,

Focus on providing good service to your customers,

Send dunning notifications to non paying customers and take a decision in time to remove those non paying ones.

This reduces your non performing accounts and streamline your services to the customers who are paying you well and on time.
EarnBill's Automated Payment Collection and Reconciliation helps cut inefficiencies in the Billing and Payment Ops. It streamlines your processes to help plug revenue leakage, ensure good cash flow and excellent customer relationships.

Additional Resources:
You can read more about Automated Payment Collection and Payment Processing at: